Welcome to the Year 1 page!

 
Class Teachers-  Mrs Hutchesson, Mrs Lawson and Miss Powers
Teaching Assistants - Mrs Holmes and Mrs Holt 
Intervention Staff- Mrs Hancock
Outdoor Games and Gymnastics - Miss Walsh
Throughout the year we will be covering a range of exciting topics, welcoming visitors and going out of school into the wider community. Our whole curriculum reinforces British values and the importance of respect, tolerance and democracy.
Our theme this half term is Castles.
On the 6th June we went to Warwick Castle.
WOW! What a day we had!!
Miss Wheeler kindly came into school and played the flute and bassoon for us. 
We couldn't believe how long and loud the bassoon was! 
We learnt that it takes a lot of practise to get really good at something.
Miss Wheeler has been playing the flute since she was 7 years old.
We will be celebrating World Book Day on Friday 8th March.
We are entering a Grow Your Own Potatoes competition
We will start by getting the potatoes ready to plant. This is called chitting. We need to plant the potatoes on March 5th.
This term we will be basing our topic on a piece of art.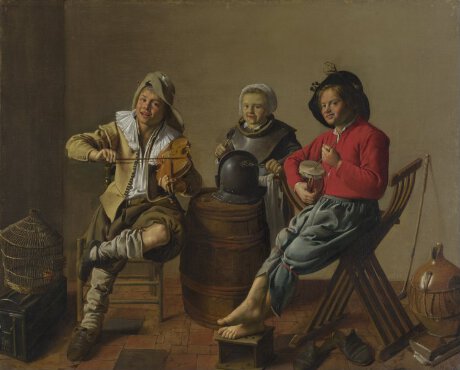 The title of the painting is Two Boys and a Girl Making Music. It was painted by Jan Molenaer in 1629. Look carefully at the picture. What can you see?
 
Safer Internet Day 2019
Tuesday 5th February is Safer Internet Day
We will be learning about the ways we can keep ourselves safe when we are online.
The Chinese New Year begins on Tuesday 5th February.
This year is the Year of the Pig
The Pig is the twelfth of all zodiac animals. According to one myth, the Jade Emperor said the order would be decided by the order in which they arrived to his party. Pig was late because he overslept. Another story says that a wolf destroyed his house. He had to rebuild his home before he could set off. When he arrived, he was the last one and could only take twelfth place.
Winter Walk
This morning we woke up to find that Jack Frost had been. 
We went on a winter walk to look at the beautiful spider webs and the frost hanging from the trees.
There's an alien in my classroom!
This morning we had a visit from an alien!
He left us a letter to ask for our help because he had forgotten how to make alien rocket fuel. 
Luckily, we were able to help him and we even wrote him the instructions so that he wouldn't forget again.
We had lots of fun designing and making our own rockets!
We used paint, pastels and crayons to create it and we even made an astronaut to climb up the side. 
Blast Off!
Our topic this half term is Space. 
We will be learning about the different planets in our solar system as well as the first moon landings.
We will be designing and making our own rocket to blast off into outer space. 
Monday 26th November
Today 3 beautiful owls came to visit us.
We learnt a lot about the different types of owls and we cannot wait to write our own non-fiction booklet about these amazing creatures!
                                               Friday 16th November
Come to school in non-uniform or even pyjamas!
12.11.18-16.11.18
Anti-bullying Week
Throughout the week we will be talking about the importance of being kind and respectful to others.
Remembrance Day 2018.
This year marks the 100th anniversary of the end of the First World War.
Larklands commemorated this by creating a poppy display.
Term 2
This term our topic is Paws, Claws and Whiskers. We will be learning about different animals, what they eat and their habitats. We will also be meeting some special animal visitors.
Wednesday 17th October.
We had a fantastic time at our Autumn Workshop!
We tasted different kinds of bread, made clay hedgehogs, painted Autumn trees and created a harvest scene.
Wednesday 10th October
We had an amazing time at Erewash Museum!
We found out about the toys and games children played with over a hundred years ago.
Thursday 4th October
Today is National Poetry Day!
We will be writing an acrostic poem about Autumn.
Wednesday 3rd October
A special visitor came to talk to us about what life was like when she was a little girl.
We couldn't believe that there were no McDonald's or TVs!
28.9.18
We had lots of fun today learning about the human body and healthy eating.
The nurses from Ilkeston Hospital showed us Bob the skeleton and talked to us about all of the bones in our body. They also demonstrated how to make a sling with a bandage. The nurses kindly gave us some fruit as well so that we could use some of our senses to investigate.
Today Baby Charlie came to visit. We found out all about him and the things he can do. Talk to your grown-ups about some of the things you learnt about him.
Autumn 2018
Welcome Back!
What a busy first week! There have been lots of things to remember and new routines to learn. Everyone has worked really hard and settled quickly into their new classes. Well done.
 Term 1 2018
This half term our topic is called Memory Box. We will be learning how babies grow and change and discussing our favourite memories. We will be finding out what it was like to be a child a long time ago.

 
Bing Bunny

Have fun making a colourful picture with Bing and Flop.